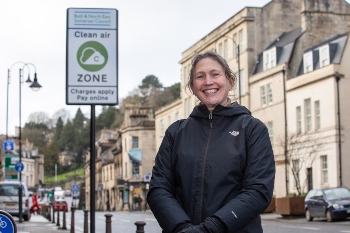 The UK's first charging clean air zone (CAZ) outside of London has been launched in Bath today.
The CAZ will charge polluting commercial vehicles to drive in the centre of the city in a bid to reduce air pollution and protect public health.
The council has set up a scheme to help owners upgrade their vehicles with compliant ones, with £1.58m being given to local bus operators to retrofit their fleet.
Cllr Dine Romero, Leader of Bath and North East Somerset Council, said: 'This a landmark day for the city. We've put up with unacceptable levels of nitrogen dioxide for too long. This is unfair on residents, particularly vulnerable older people and children. We want to reduce NO2 pollution in Bath to within legal limits by the end of 2021 at the latest, and a charging clean air zone is the only way we can achieve this.
'We know this is difficult time for businesses, but we've gone ahead with the zone during the pandemic because this is a pressing public health issue. However, we are working with residents and businesses to help them replace polluting vehicles with cleaner ones and there is significant financial and practical help available.'
As Transport Network has reported, neighbouring Bristol City Council has tried for years to avoid introducing a CAZ that would charge private vehicles. However, it is now set to introduce such a regime as early as October.