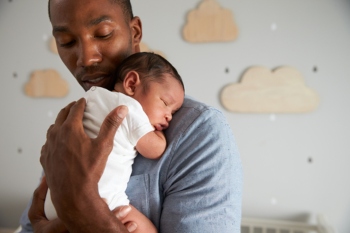 The 'hidden harms' of the spring lockdown on 0-2s were broad and significant, and experienced unevenly depending on family circumstances and background, according to the report commissioned by the First 1001 Days Movement.
It reveals evidence that 'historically inadequate or insecure funding and a rising tide of need has inhibited the ability of some services and areas to respond to the coronavirus crisis'.
For some families with babies, spring lockdown brought some broad benefits, for example around increases in quality family time. But babies in families already experiencing disadvantage 'appear less likely to have seen many of these benefits' says the report.
It also highlights that there are often 'baby blind-spots' where babies' needs are overlooked in policy, planning and funding.
The report by Isos Partnership calls for lessons to be learnt and for local and national decision makers to take seriously the risks to babies and the professionals and services that support them.
The findings of a survey of 0-2 service providers for the Working for Babies: Lockdown lessons from local systems report shows
Nearly all respondents (98%) said babies their organisation works with had been impacted by parental anxiety, stress or depression, which was affecting bonding and responsive care
78% of respondents were clear that the government in their nation had not done enough for the under twos, creating a 'baby blind-spot'
80% said that some babies they work with had experienced increased exposure to domestic conflict, child abuse or neglect, with 29% saying many babies they work with had been impacted
Services supporting families in the first 1001 days were significantly depleted during the spring lockdown, with almost one fifth (18%) ceasing to provide any support at all and the majority scaling back their offer
Some organisations and systems reacted and adapted positively to the pandemic. The report introduces the concept of 'baby-positive' local responses
Professionals working with babies have been hugely tested by the crisis and many have made significant strides in areas such as the use of technology and partnership working
According to the First 1001 Days Movement, the research highlights the importance of factors known to be important in supporting 0-2s, including clear and committed leadership, mature and strong local partnerships and professionals who are connected to each other and to their communities, and empowered to meet families' needs.
It is now calling for governments to focus on how those factors can be developed, and to consider ensuring all babies live in a 'baby-positive' local system.
Sally Hogg, head of policy and campaigning at the Parent-Infant Foundation and co-ordinator of the First 1001 Days Movement said: 'We launch this report during another national lockdown and are calling on local and national decision makers to take seriously the risks to babies, and the risks to the professionals and services that support them
'We hope that Andrea Leadsom's Early Years Healthy Development Review, due imminently, will contain clear recommendations that the UK Government adopt in order to create joined-up local support for babies and their families. Later this year, the chancellor will set out a three-year spending plan. These are important opportunities to improve and invest in systems that support the first 1001 days. They must be grasped. Now, more than ever, babies cannot wait.'