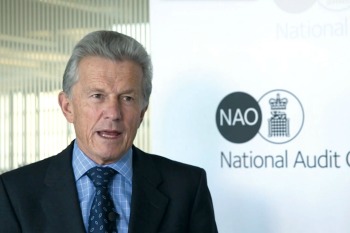 The Government must ensure it remains accountable for the 'new and experimental' devolution deals being offered to local areas, auditors have warned.
The National Audit Office (NAO) said that while devolution deals in England have the power to stimulate economic growth and reform public services, the arrangements are untested and create 'significant' accountability implications.
It said details of how and when powers will be transferred to mayors and how they will be balanced against national parliamentary accountability should be set out by the Government.
The NAO also said the Government should clarify who will be responsible and accountable for devolved services and functions, and identify any risks that arise from devolution deals.
Amyas Morse, head of the NAO, said: 'Despite several iterations of deals, the government's approach to English devolution still has an air of charting undiscovered territory. It is in explorer mode, drawing the map as it goes along.
'Some of the opportunities and obstacles are becoming clearer, but we still do not have a clear view of the landscape or, crucially, an idea of the destination.'
Meg Hillier, chair of the Committee of Public Accounts, added: 'Devolution does not absolve Government of accountability. As more money is devolved it is vital that there is clear tracking of where and how effectively it is spent.
'It is not enough to say the details are still taking shape. The big questions need to be answered, including who taxpayers can hold to account. This is especially important when complex public services, like health, are devolved but where national service standards are to be maintained.'
Ten devolution deals and already been agreed, transferring powers, funding and functions from central Government to local areas.
IPPR North told The MJ the Government's 'deal-by-deal' approach to English devolution was creating a 'problematic lack of clarity'.