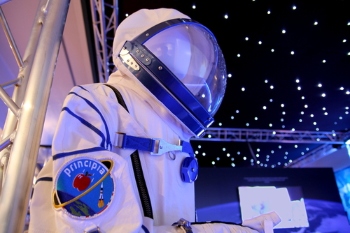 British astronaut Tim Peake has officially opened a new £100m space research hub in Leicester.
A project led by the University of Leicester, in partnership with Leicester City Council and the Leicester and Leicestershire Enterprise Partnership, Space Park Leicester will act as a base for scientists, researchers and businesses to work collaboratively.
The new research hub is forecast to contribute £750m a year to the UK space sector over the next decade and is expected to support more than 2,500 direct and indirect jobs in the East Midlands.
Speaking at the opening ceremony, passionate Science, Technology, Engineering and Mathematics (STEM) advocate Tim Peake said: 'Leicester has long been a key location for the UK's space sector, and it is a real privilege to formally open Space Park Leicester just a short distance away from the National Space Centre.
'Every successful space mission call for experts from a wide range of backgrounds to pull together and collaborate to answer bigger questions: and that's exactly what somewhere like Space Park Leicester helps to provide.
'I'm also excited to see this project highlighting the exciting careers available within the space sector and helping to train, educate and inspire our future generations.'
Leicester city mayor Sir Peter Soulsby added: 'The development of this world-class facility has been made possible thanks to an outstanding partnership approach that has seen the University of Leicester working with the city council, the LLEP, the National Space Centre, Midlands Engine and others to transform immense ambition and vision into reality.
'It is already bringing together the best academic and business minds to stimulate innovation and growth, and further paves the way for an exciting future that will reinforce Leicester's reputation as the UK's Space City.'