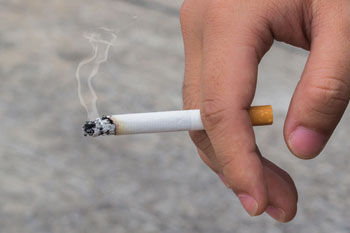 Council leaders have welcomed figures that show around 300,000 people have quit smoking due to an increased risk from coronavirus.
The survey, conducted in partnership with Action on Smoking and Health (ASH), also found a further 550,000 people have tried to quit, with 2.4 million cutting down the amount they smoke.
Evidence suggests that smokers in hospital who have coronavirus are at a higher risk than non-smokers of severe illness.
Deborah Arnott, chief executive of ASH, said: 'Covid-19 is making everyone much more concerned about staying healthy, and for people who smoke that means quitting.
'This survey shows that Covid-19 has increased the desire of many smokers to quit. It is important that health professionals are still able to offer them the support they need to give them the best chance to succeed.'
Cllr Ian Hudspeth, chairman of the Local Government Association's Community Wellbeing Board, said: 'Smokers are at particular risk of COVID-19 and it is encouraging that so many have quit the habit for good.
'We need to continue to support people to give up smoking altogether, both through the current crisis and beyond, if we are to save lives both in the immediate and longer-term.'