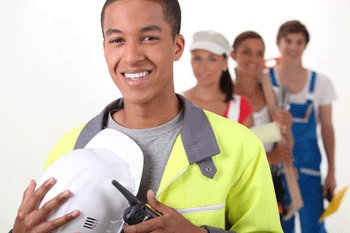 The Apprenticeship Levy needs to see 'significant changes', council chiefs warn as the number of people starting apprenticeships drops dramatically.
The latest figures show there were 195,200 apprenticeship starts between April and November 2017. This represents a 40% drop compared with the corresponding seven months in 2016.
All public and private employers with a wage bill of more than £3m have had to contribute 0.5% of this expenditure to the Apprenticeship Levy since April 2017.
The Government plans for this to fund the creation of 3 million new apprenticeships by the end of the decade.
However, the decrease in the number of starts — a drop in total of 131,500 — suggests 'significant changes' need to be made for the Levy to be effective.
The Local Government Association (LGA) argues a more locally coordinated approach would help the Levy reach its potential.
Local areas should be allowed to pool Levy contributions and have greater flexibility on how they are used, the LGA says.
The apprenticeship system — and all non-Levy apprenticeship funding — should be fully devolved and all Levy underspend should be allowed to go back to local areas where it is raised.
The LGA also called for an extension on the two year limit to spend the Levy against key standards for local authority workforces including teaching and social care.
Currently, these cannot be accessed until September 2018 giving councils too little time to spend their Levy.
'Combined authorities and councils fully support the ambitious target of creating 3 million apprenticeships by 2020 but could do far more if the Government allowed them to pool and plan local provision,' said Cllr Sir Richard Leese, chair of the LGA's City Regions Board.
'Devolving apprenticeship funding to the local areas in which they are used will allow combined authorities and councils, schools, colleges and employers to work together to help people get the skills they need to progress in work, and supply businesses with the right skills at the right time to help local economies grow.'