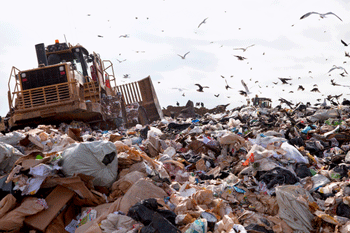 The number of planning applications to build new 'greener' waste management sites has dropped by 20% in a year, raising fears the current system could become over-stretched, new figures have revealed.
The number of applications has fallen to the lowest level in five years, down to 189 in 2015/16 from 237 in 2014/15.
Law firm EMW said councils are struggling to fund the construction of new environmentally-friendly waste management facilities. It argues that means councils are more reliant on landfill, even though landfill tax reached £84.40 per tonne in 2016.
The figures include applications for materials recycling sites, composting and anaerobic digestion centres, and incineration plants with energy recovery.
James Geary, principal at EMW, said: 'Continued investment in expanding and upgrading our waste management capacity to cope with growing demand and to meet increasingly stringent environmental protection targets is vital. These figures cast doubt on whether enough is being done.
'As the population continues to grow, ensuring a sustainable waste management sector is going to become more pressing – but also potentially more controversial – than ever. Building more new sites may not be popular with local residents, but investing in cleaner, greener technology may help to allay some of those concerns.'