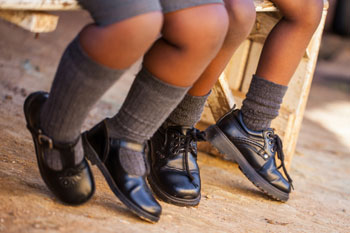 Over 100 women and girls born in the UK were victims of genital mutilation this year, according to new figures.
The most recent Female Genital Mutilation (FGM) statistics showed there were 112 newly recorded cases of FGM being carried out on women and girls who were born in the UK over the 2016-17 period.
In 57 cases, the FGM was known to have been undertaken in the UK.
Published by NHS Digital, the figures revealed there were 5,391 newly recorded cases of FGM reported in England between 2016 and 2017.
The new statistics - only the second publication of annual statistics on FGM from the NHS - also showed there were 9,179 total attendances in the same period where FGM was identified or a medical procedure for FGM was undertaken.
Women and girls born in Somalia account for more than one third (35% or 875 cases) of newly recorded cases of FGM with a known country of birth (2,504).
The 5 to 9 year old age group was the most common age range at which FGM was undertaken.
FGM has been illegal in the United Kingdom since 1985 and the law was strengthened in 2003 to prevent girls travelling from the UK and undergoing FGM abroad.
'These figures highlight the size of the challenge facing all agencies seeking an end to FGM, with more than 11,000 new cases identified over the past two years,' said Cllr Simon Blackburn, chair of the safer and stronger communities board at the Local Government Association (LGA).
'The National FGM Centre represents a ready-made solution to this challenge, and Government must act now to secure its long-term future.
'A co-ordinated national response is vital if the Government is to fulfil its promise to end FGM in the UK within a generation.'
Commenting on the data, Liberal Democrat Lynne Featherstone, a prominent campaigner on the issue, said: 'FGM is an abhorrent, nasty, evil crime and we have to redouble our efforts to end it.
'Hearing that we are seeing over 5,000 cases makes me incredibly angry, we must do more, working with communities to get the message over that this is wrong.'
'It is important to say that these are not new cases of FGM, rather newly recorded cases picked up by medical professionals,' she added.
'At this point we don't know if the increase we are seeing is down to greater knowledge of FGM or a rise in cases, but for me, one case of FGM is one too many.'
Read our feature on how FGM can be tackled at a local level.