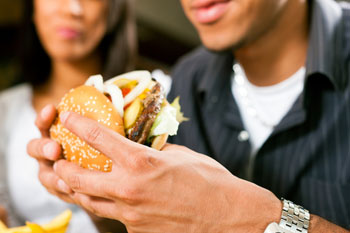 Councils call on Whitehall to force food outlets to display their hygiene ratings as analysis reveals one in five eateries do not meet the requisite health standards.
An analysis of food safety enforcement data by Which? has revealed the best and the worst local authority areas for food hygiene.
It discovered that in the worst council areas two out of three food establishments could be putting their customers at risk of food poisoning.
Hyndburn in Lancashire has the lowest ranking, according to Which?, a consumer watchdog. Only one third of eateries in Hyndburn that were high-risk or medium-risk actually met hygiene standards.
Erewash, in Derbyshire, came out as the local authority with the best food hygiene enforcement stats, followed by Eden in Cumbria and Brentwood in Essex.
Which? acknowledged it is the responsibility of businesses to comply with hygiene laws, but it warned some local authorities were struggling to enforce standards.
It voiced its concerns that proposed reforms could see more inspections carried out by third-party companies employed by businesses, instead of the checks being done by public authorities.
Responding to the report, Cllr Simon Blackburn, chair of the Local Government Association's (LGA) Safer and Stronger Communities Board, said councils worked 'extremely hard to maintain and improve food safety standards.'
'Despite the significant funding pressures affecting everyday services, councils are doing everything possible to maintain checks in this area, with several local authorities making significant improvements, as the report highlights.
'A reduction in inspections does not necessarily mean an increased safety risk.
'Councils know their local areas best and target reduced resources at the riskiest businesses, while national co-ordination through the Food Standards Agency also helps to ensure that areas of the food industry most at risk are generally targeted accordingly.
'Forcing food outlets, including those who operate solely online, to prominently display their 'Scores on the Doors' rating — which is currently only a voluntary scheme — would not only improve consumer confidence and raise standards, but would reduce the need for and cost of enforcement action by councils.'