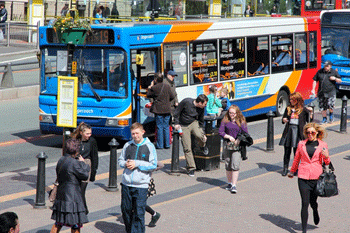 Council chiefs have welcomed an amendment to the Buses Bill, saying it is the first step towards giving all areas the right to franchising.
Yesterday, the House of Lords voted to remove the need for councils to ask the Government for approval for franchising powers in the Bus Services Bill's Report Stage debate.
The Local Government Association (LGA) backed the amendment but warned the Bill doesn't go far enough to protect local bus provision.
Cllr Martin Tett, transport spokesman for the LGA, said: 'This is significant step in the right direction for councils. The LGA has campaigned hard to persuade the Government that, to improve bus provision throughout the country, all areas need the automatic rights to franchising, rather than just those with directly-elected mayors, as has been proposed. Having to apply to the Secretary of State could mean lengthy delays for councils.
'However, while the Bill simplifies the franchising process and introduces new opportunities for innovative partnerships, for example between councils and bus operators, it will not by itself overcome the major challenges facing most councils in their efforts to protect local bus provision.
The LGA is also calling on the Government to fully fund the concessionary fares scheme.