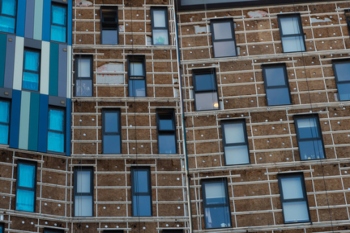 All social housing towers have had unsafe cladding removed - or have work underway - government figures have revealed.
The latest data shows all high-rise buildings in the social sector and student buildings are now fully remediated or have work underway to remove unsafe ACM cladding.
The figures show that overall, 95% of the highest risk buildings with unsafe cladding have been made safe or have work underway.
Housing secretary, Robert?Jenrick, said: 'Today's stats show that – despite the pandemic – significant progress has continued to have been made with remediation work either complete or on site on around 95% of buildings, rising to 100% in all social or student high rise buildings.
'This is a big step forwards. While there is still more to do, we are helping make the highest risk buildings with dangerous cladding safer, more quickly.'
The Government said it was in contact with building owners who are yet to start work and would take enforcement action if necessary.
Last year, the Government launched its £1bn building safety fund to cover the cost of removing dangerous cladding from high-rise residential buildings.
Photo: Robyn of Exeter / Shutterstock.com