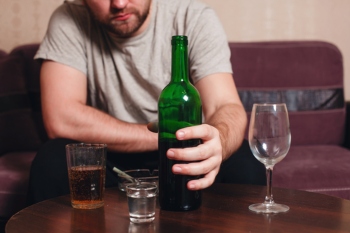 The number of deaths caused by alcohol misuse increased by nearly 19% in 2020, official figures have shown.
The data from the Office for National Statistics (ONS) shows there were 8,974 deaths from alcohol-specific causes in the UK last year. This is the highest year-on-year increase since records began in 2001.
The number of men dying from a direct consequence of alcohol misuse in 2020 was twice the number of women. More than three-quarters of alcohol-specific deaths were caused by alcoholic liver disease, according to the figures.
Council leaders warned the figures should serve as a 'wake-up call' about the impact of COVID-19 on people's general health.
Cllr David Fothergill, chairman of the Local Government Association's Community Wellbeing Board, said: 'Increasing alcohol consumption creates further health problems later on, including increased hospital admissions and exacerbating existing health inequalities, with people in the most deprived areas worst affected.
'Every life lost to alcohol misuse is another tragic reminder that there is still more work to do as we look to build back better, while reducing pressure on the NHS and social care. It is essential that government publishes councils' public health grant for next year and provides certainty over funding, as soon as possible, to help achieve this shared ambition.'