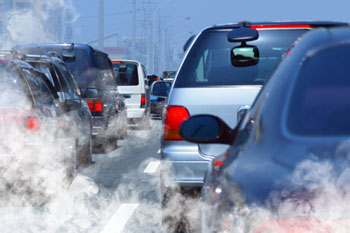 Air pollution from road traffic in London is harming unborn babies, a shocking medical study has revealed.
The study, published yesterday in The BMJ, looked at the relationship between exposure to both air and noise pollution and birth weight outcomes in Greater London.
While it found no clear link between noise exposure and negative birth outcomes, the research did conclude 'air pollution from road traffic in London is adversely affecting fetal growth.'
Responding to the report, Cllr Judith Blake, the Local Government Association's (LGA) Environment spokesperson, said: 'Expectant mothers, and our children, of whatever age, need to be able to live in safe communities and that includes making sure the air they breathe is as free from pollution as possible.'
'Councils are working with the Government to develop local plans to tackle air pollution,' Cllr Blake continued.
'These local plans, developed with communities, will include a range of measures to deliver cleaner air – it's essential they are approved swiftly by the Government, and fully funded and resourced.
'It is also important that councils have the powers to further tackle air pollution, particularly with regard to clean air zones as well as expanded road and traffic measures.
'If we're to truly tackle air pollution, we need Government support to enable us to deliver effective local plans, and robust national action to help the country transition to low-emission vehicles.'
The BMJ report was published just as the Government faces more legal action over its air quality plans.