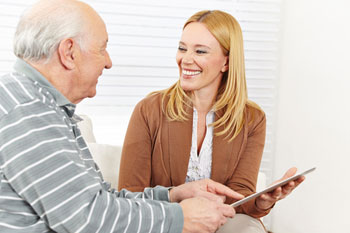 Agile working in social care is all about working smart, taking costs out of the system and being more efficient. BT itself, practicing what we preach, has taken around £550m out of its own costs by building agile working into our infrastructure.
Working smarter means saving where you can save, and making work patterns fit around the individual, rather than the other way around. One of the big costs for any organisation, private or public sector, is fixed costs around desks and buildings, and this seems particularly wasteful when the activities that the bulk of your workforce perform are focused around client visits in the community, which is typified by the activity of a social worker. You may be surprised that to know that less than 40 per cent of desks are occupied at any given time in organisations studied.
It's no secret that social work and care resources are stretched and your experienced social workers should not be required to head back to a static desk in a central office to complete a form or update a case file, when they could do so en route to the next client. This is where agile working steps in - technology should be an enabler allowing them to deliver their outcomes.
In addition to their infamously large caseloads, social workers report having to spend a great deal of time on manual and paper-based administration, anecdotally far more time than they are able to spend with their clients. Not only is this a stress on the entire sector, it is obviously detrimental to the client and also potentially dangerous for the care worker who may be going into a situation without having the latest updates to hand in the case notes.
One area of resistance to agile working in social care was lack of connectivity; happily these issues are now resolved with systems that retain the data until connectivity is re-established. Another is the belief that an agile working solution would result in a one-size-fits-all approach when obviously the needs and requirements of adult social care work differ hugely from those of looked-after children or the elderly. Again it is entirely possible to create bespoke formats, levels of data permission and workflow to suit the way each department works.
The debate for local government is how can we create a model workforce to respond to our customers' needs while at the same time reassuring the public and politicians that just because public servants are not chained to a desk does not mean they aren't working. Switching to a "what not when" attitude, focused on outcomes rather than bodies at desks, means we can be grown up about the way we use our work force. The demand for social and care work is increasing while budgets are either frozen or decreasing. The private sector saw the benefits of mobile working years ago, we in the public sector need to catch up and learn how to concentrate on clients and customers, not buildings and staff.
Michael White, Partnership Director, BT Global Services, Health, Local and Devolved Government