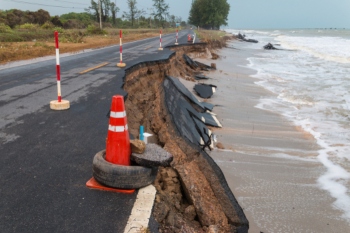 The importance of adapting local communities to make them more resilient in the face of the climate emergency is not being taken seriously enough, the Environment Agency today warned.
In a report to Government, the agency has warned of more extreme weather leading to increased flooding and drought, sea level rises of up to 78cm by the 2080s, and public water supplies needing more than 3.4 billion extra litres of water per day by 2050.
However, Environment Agency chair Emma Howard Boyd warned that the importance of adapting to the effects of climate change is at risk of being overlooked at COP26.
'The climate crisis is global, but its impacts are in your village, your shop, your home. Adaptation action needs to be integral to government, businesses and communities too and people will soon question why it isn't – especially when it is much cheaper to invest early in climate resilience than to live with the costs of inaction,' she said.
'While mitigation might save the planet, it is adaptation, preparing for climate shocks, that will save millions of lives. Choosing one over the other on the basis of a simple either/or calculation is like telling a bird it only needs one wing to fly.
'With that in mind, it is deeply worrying that adaptation is in danger of being grievously undercooked at COP26. Not by the UK Government, but by the world at large.
'Significant climate impacts are inevitable. We can successfully tackle the climate emergency if we do the right things, but we are running out of time to implement effective adaptation measures. Our thinking must change faster than the climate.'