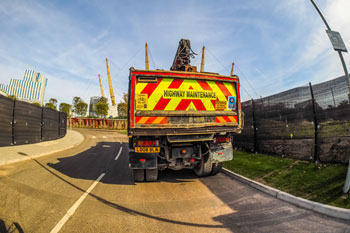 Council directors have called for a systematic change to the 'broken' system of funding for local roads maintenance.
ADEPT, the Association of Directors of Environment, Economy, Planning and Transport, has published a position paper on local highways maintenance which calls for sustainable long-term funding.
It said that, although the Budget announcement of an extra £420m is welcome, 'it offers little to support long-term planning'.
ADEPT President Neil Gibson said: 'The current system is broken. We have to stop trying to plaster over the cracks with short-term handouts and uncoordinated funding streams.
'For some time now, the 300,000km of local roads have been treated as a poor relation to the 7,000km strategic roads network. The recent £420m announcement for repairs is welcomed, but it maintains the "sticking plaster" approach that does little to tackle the fundamental issues faced by local highway authorities.'
ADEPT said that while it recognise the 'good work' the Department for Transport has already done in developing an asset management approach, the Government needs to go further and deliver funding mechanisms that support 'place'.
It added that it considers effective asset management to be the central plank of well-maintained roads alongside long-term funding and investment in digital innovation.
The paper also examines the role of the private sector and calls for a more innovative approach to procurement. ADEPT said it is working with its corporate partners to create better value for money through increased collaboration.
Steve Gooding, director of the RAC Foundation, said: 'The shortcomings of the current administrative and funding arrangements for the local roads that make up the vast majority of our highway network are well understood by those in the sector, but remain a mystery to most of the road users who depend on them.
'Local roads are hugely important, not just for motorists but for our logistics and distribution industries, and for business-to-business traffic. As concern about the state of our roads mounts year-by-year, so too does the case for taking a fundamental look at what could be done to ensure our local roads provide the service we need from them.'