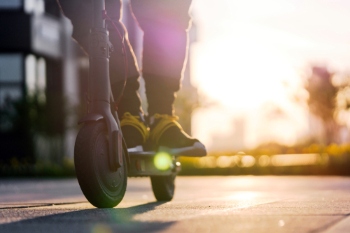 The Association of Directors of Environment, Economy, Planning and Transport (ADEPT) has published a policy position on the issue, which it said sets out the benefits of e-scooters and its thoughts on how the Government can support increased take-up.
It said this will help achieve ministerial commitments to improve air quality, reducing congestion and achieve its net zero carbon by 2050.
The paper sets out 'a number of questions around e-scootering that need to be answered', including whether they should be allowed in bus and cycle lanes, ensuring safety, age limits, technical standards and insurance.
ADEPT said it believes there is a role for government in enabling policy changes to provide some consistency in law with e-bikes and to ensure inclusivity in deprived areas and communities, as well as rural areas with infrequent public transport.
Mark Stevens, chair of ADEPT's Engineering Board, said: 'In the Environment Agency's State of the Environment report, it states that air pollution is "the biggest environmental threat to health in the UK".
'No-one should be complacent about this. COVID-19 has also shown quite starkly how poor air quality is a significant factor in the severity of the virus experienced by individuals.
'There are still questions to consider but, managed safely, e-scooters can be an important part of tackling poor air quality. They can be part of the first mile / last mile component of journeys between home, work, and transport hubs. Short journeys to local shops and schools can be on e-scooters (where age appropriate) reducing our dependence on the car and lowering emissions.'
ADEPT said it will be collecting evidence from members on rental trials, collating case studies and working on best practice as well as developing guidance.
Separately, the City of York has selected TIER for its 12-month e-scooter trial.
The Department for Transport-approved scheme will initially see up to 100 e-scooters deployed, 'with more e-scooters and TIER e-bikes to come'. It will cost £1 to unlock the vehicle and 15p per minute travelled.
The first e-scooters will be deployed at the University of York 'in a few weeks'.