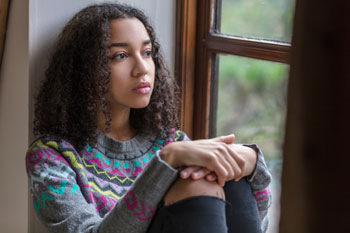 A third of 15 to 18-year-olds are suffering from mental health and emotional wellbeing issues, according to campaigners.
In a study of more than 5,000 questionnaires completed by secondary school pupils, the Action for Children charity found 33% were experiencing problems on a regular basis.
Common issues included feeling depressed, restless sleep, negative feelings and 'everything feeling an effort'.
Pupils in need of support were offered a place on a programme run by the charity to help tackle depression among secondary school pupils.
It says 70% of those who have taken part so far showed an improvement in their mental health and emotional wellbeing.
Action for Children chief executive, Julie Bentley, said: 'Young people are increasingly concerned about their futures as they?become more aware of the political environment around them.
'Many are dealing with the intense pressure of school work, others are experiencing problems at home.
'Add in navigating an increasingly complex 24/7 world with constant stimulation from social media, and things often become too much for young people to handle.'