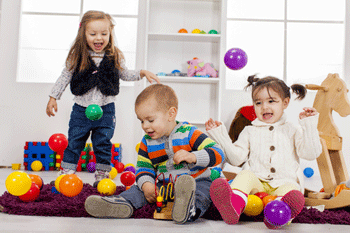 The Government's plans to offer 30 hours of free childcare will be 'doomed' without the proper funding because nurseries would be forced to close down, warns school leaders' union.
Whitehall is committed to doubling the free entitlement to childcare to 30 hours a week for working parents, but it has regularly been criticised for not funding the scheme properly.
The union NAHT has warned hundreds of nursery schools across England—many in areas of high social deprivation—would be forced to close because they would not be able to afford to provide the extra care.
Russell Hobby, the NAHT's general secretary, pointed out that 99% of nursery schools are rated 'good' or 'outstanding' by Ofsted, an achievement, he said, that comes from employing 'highly qualified staff'.
'As a result, they have higher operating costs,' he explained.
'They cannot benefit from either lower staffing costs, as private and voluntary settings do, or lower fixed costs, as some primary schools can.
'Any funding approach that does not reflect these costs on an ongoing basis will be a body blow for early years education in nursery schools.'
Mr Hobby acknowledged the Government has made some additional funding available but argued this is only for two years and so after that many of England's nursery schools will 'cease to be financially viable.'
'The thirty hours offer will be doomed before it even gets started, additional places won't materialise and current places will be lost as nursery schools across England close their doors for good,' he said.
'The Government has the data – it must rethink before thousands of families, many in the poorest areas of the country, are left high and dry.'
The NAHT's analysis showed the local authorities with the highest number of nursery schools would see enormous decreases in funding for such schools.
Birmingham's 27 nursery schools, for example, would receive 47% less funding and Lancashire's 24 nurseries would receive 46% less. Durham's 12 nurseries will get 38% less and Hertfordshire's 14, 28% less.
These losses are too large simply to be recovered through greater efficiencies, the union warned. Those nursery schools will not be able to afford to stay open unless additional funding is provided on an ongoing basis.
Beatrice Merrick, chief executive of the charity Early Education said: 'The government needs to put quality at the heart of the new funding formula, as evidence shows that only high quality provision makes a difference to children's outcomes, especially the most disadvantaged.'
Ms Merrick went on to emphasis that 'only schools provide consistently high quality provision in disadvantaged areas'.
She continued: 'The highest quality provision of all is in the 400 remaining local authority nursery schools and we welcome the recognition that they need additional funding, but unless the government looks again at how much, and how to allocate it, the current trickle of nursery school closures could become a flood.'