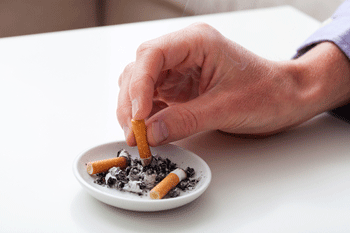 Stoke-on-Trent City Council officers have seized 14,000 counterfeit cigarettes and 5kg of hand-rolling tobacco in a joint operation with Staffordshire Police.
The operation focused on the sale of illicit tobacco at nine premises in Hanley, Tunstall and Cobridge.
It was part of Operation Trivium, a multi-national policing operation targeting offenders across international borders.
Officers from the city council's public protection team joined forces with Staffordshire Police and a tobacco detection dog to look for counterfeit goods at the shops.
Martyn Brindley, the council's strategic manager for public protection, said: 'All tobacco is harmful but the illegal tobacco market often targets children and young smokers, making it even easier for them to get hooked on smoking.
'The people making money out of this do not care who they sell to. Illegal tobacco has strong links with crime and criminal gangs.
'The city council continues to tackle illegal tobacco, which is undermining legitimate businesses in Stoke-on-Trent and we will take strong action whenever we can.'