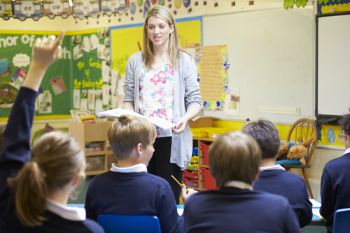 Local authorities will need to build the equivalent of 11,200 new primary school classrooms in the next nine years to meet rising demand, new research has revealed.
Research from built environment specialists Scape Group shows that up to 1,600 new primary schools would need to be built to meet the needs of Britain's rising young population.
The largest growth, unsurprisingly, is in London, where the number of pupils is set to increase by 146,000 between 2015 and 2020, accounting for a quarter of extra pupils nationally. London therefore needs to create 78,275 new primary school places before 2020 - the equivalent of 2,600 extra 30-pupil classrooms.
The north will also see significant growth in primary pupil numbers, with Manchester set to see a 26% rise in its primary population by 2019 - the equivalent of 370 new classrooms or 53 single entry schools. Leeds, meanwhile will need to provide an extra 309 classrooms or as many as 44 new schools.
Simon Reid, head of Scape Design, said: 'It's clear from our research that both the public and private sectors have a huge task on their hands. Some constituencies will see an increase in pupil numbers of up to a third, and others will need to create hundreds of new classrooms in just a few years' time.
'Already parents struggle to get their children into their preferred schools and the crisis in school places will only increase if councils don't act now to increase capacity.
'As the extra pupils at primary level move towards secondary school, there will be increasing pressure on local authorities to deliver extra secondary school buildings, which are much larger and require extra facilities. As an industry we have a responsibility to get better at collaborating and innovating to meet the needs of the public sector and the communities we all live in - delivering extra capacity quickly and cost-effectively. New technologies will be an essential part of that.'