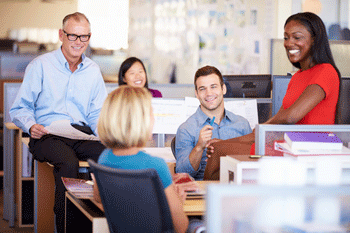 A survey carried out by the Chartered Institute of Personnel and Development and Halogen Employee Outlook found two-thirds of public sector employees were satisfied with their jobs, the highest level since autumn 2012.
This was higher than the satisfaction rate among employees generally which was 63%.
However, 43% of pubic sector workers said they were under excessive pressure at work at least once a week, compared to 38% of all employees.
The report found evidence of post-referendum optimism among employees in all sectors -- more than half of employees (57%) believe it is unlikely they will lose their current main job, with one in ten (12%) saying they think it is likely.
Claire McCartney, associate research adviser at the CIPD, said: 'It's fantastic to see such a leap in job satisfaction in the public sector since our last survey in the spring, especially in such uncertain times for the UK.
'There was a great deal of uncertainty before the referendum, so people might be feeling more settled, and many will be happy with the outcome based on their voting decision.
'Other reasons could include the optimism that usually comes with a new Government, and it could be that some of the new messages we're hearing on fairness and equality might be resonating with public sector workers.'