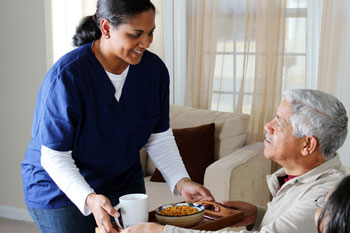 The Government needs to address the social care crisis 'as a matter of urgency', North Yorkshire County Council warns as it faces dramatic staff shortages in the adult social care sector.
There are 20,000 people working in the care sector in Yorkshire and over 13,000 of these are care and support workers, across 500 organisations providing services involving residential care through to working in peoples' homes.
However, according to Richard Webb, North Yorkshire County Council director of Health and Adult Services, there are 70% less applications for care roles than they were a few months ago despite a surplus of vacancies.
'On any given day across the county there are at least 1,000 jobs available,' he said.
'Never has the need for people to work in care been so great yet we are receiving 70% less applications now then we were only a few months ago.'
Mr Webb warned that the staffing shortage would be exacerbated by COVID-19 guidance and Care Workforce regulations.
'Our current staffing shortages are set to increase as potentially we will lose 400-500 care workers who are choosing not to be vaccinated by the Government deadline and therefore will be unable to work in the sector after 11th November,' he said.
'We are working hard with that group to support them to get vaccinated, nevertheless we anticipate significant numbers of them will not continue with their careers in care.
'The need to self-isolate is also increasing staff absence. In addition, the fact that care workers are not able to work across different settings due to Care Workforce regulations (where workers cannot move between two care homes but could work in a care home and a pub/fast food outlet) is limiting workforce flexibility at a critical time. This is a particular challenge for small providers.'
Mr Webb also warned of the impact of winter on the social care crisis before calling on the Government to reform the system.
'There is now also an urgent need to consider further national support measures to care providers: more funding; workforce support; home care market stimulus; engagement with councils and providers to identify proportionate regulatory framework for current circumstances; to consider care sector pay, recruitment and retention and changes to immigration policy,' he said.
'More than ever social care reform is vital. The Government's moves towards reform of the social care system are welcome but government needs to address the above workforce and provider issues as a matter of urgency as well as a cap on the costs paid by individuals and families for care.'