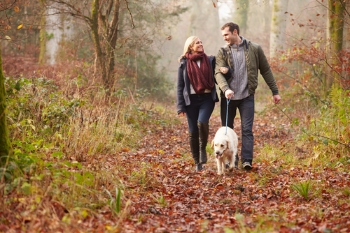 Visits to the UK's woodlands boosts mental health and is estimated to save £185m in treatment costs annually, a new report has found.
The report, published during 'National Tree Week' and funded by the Forestry Commission, Scottish Forestry and the Welsh government, is the first time the health and wellbeing benefits of the UK's woodlands have been quantified.
Published by Forest Research, it estimates that in England alone woodlands save £141m in costs associated with mental health illnesses. These costs include visits to GPs, drug prescriptions, inpatient care, social services and the number of days lost due to mental health issues.
The researchers also found that the value of street trees through avoided antidepressant costs related to mental health issues is £16m.
The value over the next 100 years is estimated to be just over £11bn for the mental health benefits of visits to woodlands, and a further £1bn for the mental health benefits of street trees.
Forestry Commission chair, Sir William Worsley, said: 'This report demonstrates just how vital it is to invest in healthy trees and woodlands. It makes medical sense, because it will mean better health for all; economic sense, by saving society millions of pounds and it makes environmental sense, helping us to tackle the twin challenges of climate change and biodiversity loss.
'This National Tree Week, let's all step outside, enjoy trees in town and countryside and reap the benefits of being close to nature.'