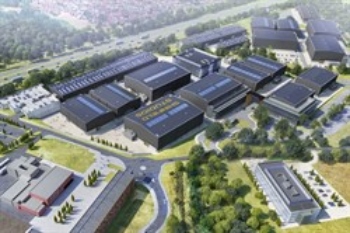 Wokingham Borough Council's planning committee has given the go ahead for film and television studios at a site in Shinfield.
Creative Media Hub will be an 85,000 sq m complex, which will be built on part of the Thames Valley Science Park to the south of the M4, an area which is earmarked for employment use in the council's local plan.
The Hub, which is the product of a partnership between Shinfield Studios and the University of Reading, will have 18 film stages and eight workshops to support set production plus office facilities and other supporting infrastructure.
The project is expected to create 1,500 new jobs with a similar figure arising from indirect employment generated by its use. Construction would generate a further 1,400 jobs and a similar number indirectly.
'We're absolutely thrilled that the prospect of major international blockbusters being filmed in Wokingham borough is now almost a reality,' said Cllr Stuart Munro, executive member for business and economic development.
'It will consolidate our existing links with the film industry, as well as our reputation as a centre for excellence in technology and innovation, while increasing our presence on the global stage.
'The new jobs and investment opportunities offered by this project will also play a key role in our recovery from the impact of the coronavirus pandemic.'
Cllr Wayne Smith, executive member for planning and enforcement, added: 'Studios are an unexpected departure from our initial vision for the Thames Valley Science Park but they share the same innovative, pioneering spirit.
'We're thankful that residents and the parish council share our enthusiasm for this proposal and welcome the prospects it presents, as it has been crucial in getting this far.'