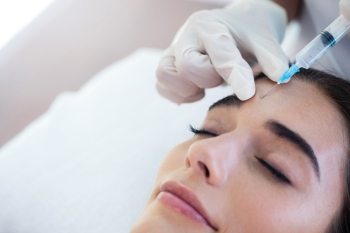 As the Government advances its devolution strategy under the 'levelling up' agenda, new powers for local authorities must be brought forward to protect thousands of people from the scourge of botched Botox and fillers procedures – and to tackle a public health crisis that has already hit the high street.
The huge rise in numbers of non-surgical cosmetic interventions procedures being delivered every year has been met by an alarming number of patients being admitted to hospital, because they have been treated by individuals performing procedures in clinically unfit premises on the high street – such as hairdressers and nail bars – or even in private residences, and without fit-for-purpose qualifications.
The scandal is that – currently – these people have no recourse for the harm caused to them, because the non-surgical cosmetic interventions sector is almost completely unregulated. There is no formal body that people with sometimes life-long injuries can go to for redress and there is no law that protects them from malpractice.
With the Government preferring to take a 'self-regulating' approach to non-surgical interventions to date – putting it in the hands of industry to create and uphold standards – the scale of the crisis is such that there is now an overdue and compelling case for powers to be devolved to local government level to protect the safety of these patients.
This was most recently noted at the All-Party Parliamentary Group (APPG) on Beauty, Aesthetics and Wellbeing's concluding session on non-surgical cosmetic interventions – specifically in the context of the role of local government in enforcing the newly passed Botulinum Toxin and Cosmetic Fillers (Children) Act. The APPG's report includes a recommendation to the Government that new responsibilities should be given to local authorities to police who delivers non-surgical cosmetic interventions and where they are administered.
At Transform Hospital Group – the UK's leading provider of cosmetic interventions – we welcome these recommendations. All the procedures we deliver are conducted in clinically regulated environments and we believe that this should be uniform across the UK. But we also believe that additional regulatory change and further devolution of public health decision making to local authorities is required to tackle the scale of the challenge.
The Botulinum Toxin and Cosmetic Fillers (Children) Act will come into force in Autumn 2021 and will make it illegal for those under the age of 18 to be given cosmetic fillers or Botox, unless they are administered by a registered medical practitioner.
It is evident that local government will play a crucial role in bringing about these long overdue improvements to the regulatory environment surrounding the non-surgical cosmetic interventions sector. As it stands, under the terms of the Act, local authorities will be entitled to use the powers already accorded to them under the Consumer Rights Act 2015, in line with age restrictions on tattoos, teeth whitening, and sunbeds.
However, no new enforcement mechanisms have been introduced as part of the legislation. We believe that further legislative change is needed to really tackle the root of the problem and effectively regulate what is currently a "Wild West"-style environment with no effective checks and balances in place to protect adult patients.
There is precedent for local authorities having oversight over the provision of services that are invasive to the body. Under the Local Government (Miscellaneous Provisions) Act 1982, as amended by the Local Government Act 2003, local authorities in England and Wales are responsible for regulating and monitoring businesses offering cosmetic body piercing, permanent tattooing, semi-permanent skin colouring and electrolysis.
It is clearly the case that the regulation of premises and individuals responsible for the provision of non-surgical cosmetic interventions – many of which involve injecting medical-grade pharmaceutical products directly into the faces of patients, where there is often a high degree of clinical risk – should at an absolute minimum be on a par with rules governing tattoo parlours.
As such, Transform Hospital Group is urging policy makers to either introduce new primary legislation, or make amendments to the Local Government (Miscellaneous Provisions) Act 1982, as amended by the Local Government Act 2003, so that it becomes a criminal offence for premises offering non-surgical cosmetic interventions to trade without local authority licencing or to carry out non-surgical cosmetic interventions outside of licenced premises. We also want to see the introduction of a minimum requirement for all individuals conducting these interventions to hold a licence to perform procedures.
This would significantly improve patient safety in the non-surgical cosmetic interventions sector and support the further devolution of public health oversight to local authority level across the country.
If brought into effect, we believe this reform could be a textbook example of how local authorities can take on new devolved responsibilities to great effect.
We therefore call on local authorities across the country to join us in campaigning for legislative change that will protect communities and bring much needed consistent safety standards to a rapidly growing sector.
Tony Veverka is CEO of Transform Hospital Group