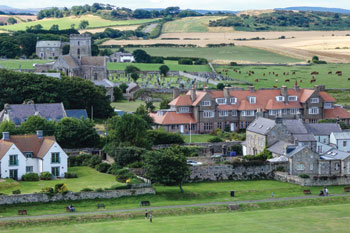 The 2018 National Planning Policy Framework (NPPF) requires local authorities to plan for housing using the standard method for assessing local housing need.
The new methodology was justified by Government as being transparent, easy to use and consistent with the government's target to deliver 300,000 homes annually.
Applying the standard method figures nationally would provide for 273,000 homes to be delivered. The Government therefore needs councils to plan for more to achieve its 300,000 homes per year ambition.
Accompanying government guidance cites circumstances where councils might need to plan for more housing as including growth strategies (including Housing Deals), infrastructure commitments, unmet need, affordable housing needs, or evidence from previous Strategic Housing Market Assessments (SHMAs).
We have reviewed the plan-making progress of all local authorities in England (excluding London) to understand how authorities are starting to respond to the standard method.
Our research found 11 authorities that had submitted a Local Plan under the new NPPF and a further 53 have set out housing requirements in emerging Local Plans (Regulation 18 or 19). Of these authorities, 34% are doing more than the standard method, 16% are doing less and 50% are matching it.
Regionally, those going above the standard method are overwhelmingly located in the North and the Midlands, while those authorities in the south and east have more frequently either matched or are doing less than the standard method figure.
What is driving authorities to plan for more?
Of the 22 local authorities planning for more, 41% cite jobs and economic growth as the reason.
The link between housing and economic growth had been a regular feature of Local Plan examinations under the old NPPF and are maintained in the new Framework at paragraph 81, so authorities know the risks associated with failing to provide enough homes to support jobs – such as unsustainable commuting patterns and congestion.
Interestingly, 18% of councils going higher cite housing delivery itself as the reason for doing so - for example historic rates of housing delivery, or a future strategy such as delivering an urban extension or new settlement. Other reasons for going above include commitments made to wider bodies such as the Local Enterprise Partnership and Government, e.g. Growth Deals, and meeting unmet need from neighbouring areas.
Overall, those authorities planning for more add a combined total of 3,800 homes a year towards the government's national target.
What about those doing less?
Ten local authorities are planning for less than the standard method. As a result, there will be a combined loss of 2,400 homes a year against the government's national target once one has accounted for unmet need being met across boundaries through the duty to cooperate (e.g. in Oxfordshire and Manchester).
Those authorities that are proposing to do less than the standard method are predominantly citing constraints on supply, rather than trying to argue the actual housing need number is less.
In theory, Statements of Common Ground are intended to avoid any housing need 'falling between the cracks', but as has been evident since 2012, addressing unmet need has not always been straightforward - for example, where plan preparations are not aligned or where there is a lack of political will.
Overall, based on current emerging proposals, a total of 1,450 net additional homes (compared to the Standard Method alone) are planned in 2019 NPPF plans, taking into account those planning for more or less.
This equates to a 4% uplift nationally, compared to the 10% required to meet the government's target of 300,000 homes a year.
Significantly, when looking at the regions the south east and east are expected to see net reductions of 6%, meaning the regions with the greatest problem of affordability are not currently matching even the minimum starting point.
Obviously, it is early days, but there are warning signs here that plans are not currently setting out to deliver what will be needed to match government aspirations. And that's before we look at London's challenge.
A significant factor on the future success of the standard method, is the level of housing that London boroughs will be able to provide. At present the new London Plan is at examination and sets out an overall housing target of 65,000 homes a year, while the standard method indicates that London should be providing 76,000 homes a year. The secretary of state for housing, communities and local government has stressed that an immediate review of the new London Plan will have to take place following its adoption to ensure London delivers the homes it needs.
The issue here is that even if the higher figure is adopted as a target, all the evidence suggests the London boroughs are unlikely to be able to accommodate all of this housing need; recent annual housing completions in London have not exceeded 40,000 and average just 27,500, and the mayor's ambitions for small site capacity were heavily criticised as unrealistic at the recent examination hearings.
The future
An extrapolation of these Local Plans – acknowledging we are at an early stage - indicates that if regional variations to the standard method were replicated, this would equate to 207,500 homes being planned for each year, outside London.
This compares to 196,500 homes each year if these authorities planned for just the standard method.
In summary, the combination of some areas doing less and others doing more can be expected to yield an increase nationally outside London of 5.4%; but an increase of 20% would be required outside of London for the 300,000 homes a year target to be achieved (based on the new London Plan target being met). Significantly, if we adopted London's average rate of housing delivery, an increase of 39% would be needed outside of London.
It is early days for the new NPPF and the success - or otherwise - of the standard method will become clearer as more authorities become involved in the process and plans progress to examination.
However, the signals indicate that emerging plans are not doing what will be necessary to achieve the 300,000 homes per annum ambition. The success of the standard method relies on many more areas doing much more - and quickly.
Click here to read Lichfields report: 'Above Standard? Plans for housing under the new NPPF'.
Sophie Innes is a planner at planning and development consultants Lichfields