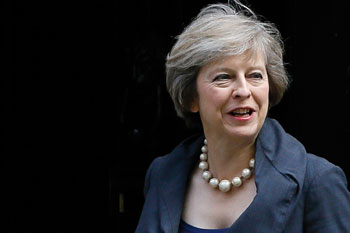 The Government's industrial strategy must be led locally, think tank says as Whitehall announces a £556m cash boost for the Northern Powerhouse.
Speaking at a cabinet meeting in the north west, Theresa May today announced the publication of the Government's industrial strategy green paper, Building our Industrial Strategy: 10 pillars.
The prime minister said it would 'drive growth across the whole country' and create 'more high skilled, high paid jobs and opportunities' as part of her Plan for Britain.
A central part of the strategy is an offer to businesses to strike new 'Sector Deals'.
As part of these deals – designed to address sector-specific challenges – the PM would offer support such as addressing regulation barriers, encouraging exports and creating new institutions to provide leadership, support innovation or boost skills.
'The modern industrial strategy will back Britain for the long term: creating the conditions where successful businesses can emerge and grow, and backing them to invest in the long-term future of our country,' Ms May said.
'It will be underpinned by a new approach to government, not just stepping back but stepping up to a new, active role that backs business and ensures more people in all corners of the country share in the benefits of its success.'
The green paper set out ten strategic pillars that would underpin the strategy, including investment in science, research and innovation, developing skills and upgrading infrastructure.
It also included £556m for the Northern Powerhouse to help create jobs, support businesses and encourage growth.
Welcoming the publication of the green paper, Localis chief executive, Liam Booth-Smith, warned the industrial strategy could only be successful if it was locally led.
'All of this must be underpinned by local leadership. Business secretary Greg Clark has already said that for an industrial strategy to be successful it must be led locally,' Mr Booth-Smith said.
'The prime minister should use the opportunity created by the green paper to plan a new industrial compact, a contract with those places in the UK with highest economic potential, to give new powers to city and regional leaders to ensure they can deliver on her vision.'
'Such a move would be the largest single transfer of power since the first meeting of the Scottish parliament in Holyrood in 1999,' he added.
However, Labour was more sceptical about the strategy, describing the move as 'too little, too late'.
Clive Lewis, shadow secretary of state for business, energy and industrial strategy, said: 'This belated attempt to develop a proper industrial strategy is a step in the right direction, but once again what the Tories are offering looks like too little too late.
'We await further detail, but what's been announced so far will fall far short of getting us back to where we were in 2010, let alone equip our economy for the challenges of the 21st Century.'
Mr Lewis warned there were 'too many people on the Tory benches who think that the only role of Government is to deregulate markets.'
Referring to Theresa May's threat last week that Britain would leave the EU and reduce corporation tax if a satisfactory Brexit deal could not be struck, Mr Lewis added: 'The reality is that a prime minister who wants to turn us into a tax haven cannot be trusted to deliver an industrial strategy.'