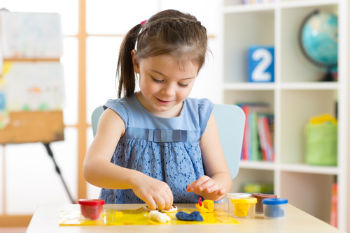 The Government has unlocked £55m of investment as a boost to their flagship childcare scheme.
The early years minister Caroline Dinenage said today £50m capital grants will go to help nurseries, pre-schools and playgroups invest in new buildings and upgrade facilities.
She said it would also create 9,000 additional childcare places – helping to meet the government's plans to give working families 30 hours free childcare from September.
This doubles the total spend on early childcare to £100m which, altogether, will provide nearly 18,000 extra childcare places.
The extra £5m will go to organisations that are helping children from disadvantaged backgrounds or with additional needs to access high-quality early education.
'As part of our Plan for Britain we want to make this a country that works for everyone, not just the privileged few, so that means removing the barriers facing parents struggling to balance their jobs with the cost of childcare,' said Ms Dinenage.
'This investment will deliver more childcare places to working parents, giving them the benefits of 30 hours' free childcare while giving their children high-quality early education that sets them up for life.
'This is backed by our record £6bn investment in childcare per year by 2020.'