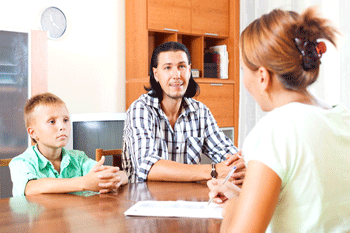 The Government is pursuing a 'dangerous scheme' to force child protection opt outs into the Children and Social Work Bill, says human rights group.
Education secretary Justine Greening has been tipped to say she intends to reinsert a clause into the Bill that will give councils an opt out of multiple legal obligations to vulnerable children, young people and their families later today.
The human rights group Liberty has argued the move risks creating a postcode lottery of protection, while courts will be unable to safeguard the rights of children and families if a council has been exempted from following the law
This controversial clause was in the initial draft of the Bill - until it was removed by the House of Lords last month.
A report from the union Unison has shown 90% of social workers oppose the proposals and 69% of them believe the Government's plans will put more children at risk. 200 organisations have also come out against the clause.
'Before razing 80 years of child protection law to the ground the Government should have sought evidence and consulted the experts,' said Liberty policy officer Sara Ogilvie.
'Having failed to do either, they're now ignoring significant concern from professionals, the public and peers and pushing on regardless – and taking advantage of the approaching Christmas break to push scrutiny through at top speed.
'The House of Lords has already rejected Government amendments. This is a fundamentally unsound and dangerous scheme – and tinkering around the edges won't protect children whose rights are cast aside. It's now up to principled MPs to stand up for vulnerable children and ditch it.'