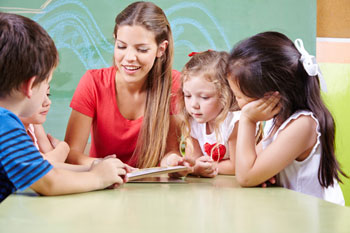 The Government's promise to provide parents with 30 free hours of childcare is in danger as daycare nurseries opt out leaving 50,000 children without places.
A new survey by the National Day Nurseries Association (NDNA) has revealed one fifth of nurseries are 'Unlikely' or 'Definitely won't' offer 30 hours and only 44% say they will participate.
Around 35% say they 'Don't know' just five months ahead of the rollout of Whitehall's flagship policy.
The survey also discovered that 85% of nurseries are underfunded, with the average loss per child per year being £958 for 15 hours funded childcare.
More nurseries (83%) than in previous years plan to increase their fees, with the average rise being 4.5%, the NDNA found. And the number of nurseries expecting to make a loss has almost doubled since 2016 from 9% to 17%.
The association's survey found staff wages is the single biggest challenge nurseries face. Payrolls are due to rise by a further 7% average. This will force more nurseries to employ younger and less qualified staff to reduce bills.
The NDNA's chief executive warned this was the result of the National Living Wage.
Inadequate funding and pressure to deliver 30 hours will also threaten free places for disadvantaged two-year-olds, with 10% reducing two-year-old places.
'Our findings are significant as they concern full daycare settings, the largest part of the nursery sector, who provide more places than schools or playgroups,' said Purnima Tanuku, chief executive of NDNA.
'There is no such thing as 'free' childcare – parents, nurseries and their staff are all paying for this.
'It is time the Government stopped promising parents 'free' childcare hours unless they are prepared to invest the money needed. This manifesto promise is in real danger of failure.'
The Family and Childcare Trust recently warned the policy could put quality and availability of services at risk.