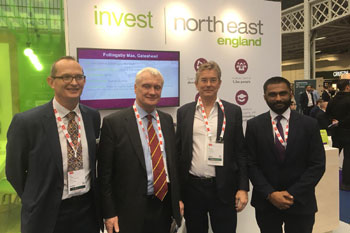 The Government has invited foreign investors to put their money into a range of new schemes.
It says the £2bn property investment portfolio will create thousands of jobs and new homes across the country.
Projects include a 12,500 seater stadium in Gateshead, a stem cell research centre in Edinburgh and office space for Belfast's creative sector.
It also offers investment opportunities in the Northern Powerhouse such as the Festival Park development in Liverpool which will includes up to 2,500 new homes.
International trade secretary Liam Fox said: 'It has never been easier to find opportunities for global investment in the UK and these seven projects worth £2bn give investors the opportunity to do just that.
'Not only will these projects promote our vibrant and successful real estate industry, they also create homes and jobs across the country.
'As an international economic department, our message is loud and clear: the UK is open for business, and we can help find the right investment for you.'