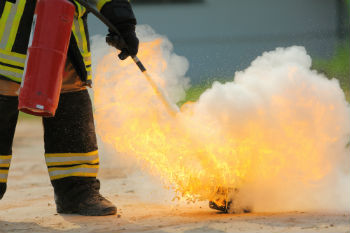 Unions have called on the Government to confirm they would not 'weaken' fire safety guidance for building new schools.
The National Union of Teachers (NUT) yesterday wrote to education secretary Justine Greening urging her to confirm she has 'abandoned attempts to weaken fire safety advice' for schools.
The Government has suggested it would be revising its official safety guidance on building new schools published in Building Bulletin 100 – a move the NUT views as 'weakening'.
In response to the letter, a Department for Education (DfE) spokesperson said: 'There are no plans whatsoever to introduce any changes that would make fire safety laws for schools less strict.'
The letter – co-signed by the Fire Brigade Union (FBU) and the Association of Teachers and Lecturers (ATL) – said despite the Government's current guidance, only 35% of new schools have been fitted with sprinklers since 2010.
The NUT also said that given the Government's record on sprinkler installation, the union had little confidence the official advice discouraging the use of potentially flammable cladding in school buildings is being adhered to.
The unions called on Ms Greening to bring forward legislation to require sprinklers to be fitted to all new schools, and review all schools built since 2010 without sprinklers to determine whether they should have been built without sprinklers on the basis of risk.
They also called for all decisions about sprinkler installation to be centrally monitored, and said the Government should instigate urgent checks by qualified and competent assessors on all required and recommended fire safety measures including the suitability of the cladding used on school buildings.
'For far too long the Government has viewed health and safety as a "red tape" burden,' said NUT general secretary Kevin Courtney.
'It has been seen as an afterthought and an opportunity to try to cut corners and save money.'
Referring to the Grenfell tragedy, Mr Courtney continued: 'We all now know the terrible consequences of that approach.
'Fire safety in schools must now become a priority and for this to happen the Government needs to heed our advice.'
'All schools must have a mandatory Fire Risk Assessment and new schools must undergo an additional check while being designed,' said the DfE spokesperson.
'Where that additional check states that sprinklers - or any other fire safety measure - should be fitted in new schools, they must be put in place.
'As part of the cross Government response to the Grenfell tragedy schools, colleges and universities have been instructed to carry out building checks.'