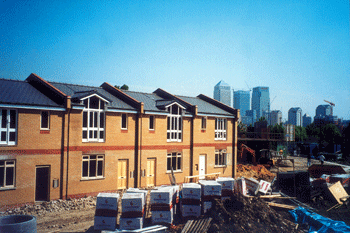 The Government has agreed to a £7.45m loan in order to kick start the development of a brownfield site in Birmingham city centre.
The Home Building Fund loan will go to supporting the partnership of Homes England, Whitehall's housing accelerator, and the developers Urban Splash and Places for People.
The partnership, together with Birmingham City Council and the Canal and Rivers Trust, plans to build 1,150 new homes at Port Loop on the edge of the city centre.
Phase one of the development will include a new park, improved canal towpath and 77 homes built around shared gardens. In addition to the 37 traditionally built properties, there will be 40 modular homes, which can be customised.
'This Government is committed to making the dream of home ownership a reality for a new generation as we power through to delivering 300,000 homes a year by the mid-2020s,' said the communities secretary James Brokenshire.
'Birmingham's Port Loop is a great example of how our £4.5bn Home Building Fund is helping to meet the triple challenge of delivering more, better, faster home construction, as well as revving a strong and prosperous Midlands Engine.'
Adam Willetts, speaking on behalf of the partnership, commented: 'Port Loop is one of the most exciting regeneration developments in the country and we are delighted to be delivering the first of many homes there.
'We are also on site creating new public realm space in the form of a one-acre park, as well as progressing our plans for the broader area. We are delighted to receive the support of Homes England for our plans.'