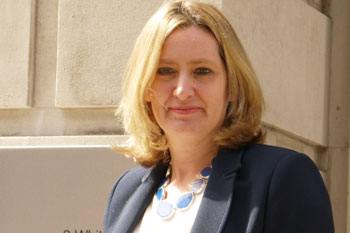 The Government today launched a multi-million pound strategy to tackle the 'root causes' of violent crime, including a task force involving local authorities.
Home secretary Amber Rudd described the £40m Serious Violence Strategy as a 'major shift' in Whitehall's response to knife crime and gun crime.
She argued the new strategy would strike a balance between prevention and law enforcement with a £11m Early Intervention Youth Fund for community projects to keep young people away from violence.
Ms Rudd also said there will be more focus on tackling 'county lines' exploitation, the practice of using children to transport drugs from cities to rural areas.
The strategy includes £3.6m for the establishment of a new National County Lines Coordination Centre.
The home secretary will also lead a new Serious Violence Taskforce which will bring together the voluntary sector, local government, police and other key sectors to ensure the strategy is delivered effectively.
'This strategy represents a real step-change in the way we think about and respond to these personal tragedies, these gruesome violent crimes which dominate the front pages of our newspapers with seemingly depressing regularity,' said Ms Rudd.
'A crucial part of our approach will be focusing on and investing more in prevention and early intervention.
'We need to engage with our young people early and to provide the incentives and credible alternatives that will prevent them from being drawn into crime in the first place. This in my view is the best long-term solution.'
The announcement comes after a spate of recent shooting and stabbing deaths in London. There have been more than 50 lives lost this year to violent crime in the capital.
The Government claims half the rise in robbery, knife and gun crime is due to improvements in police recording, while the other half is the result of a rise in drug use.
Between 2014-15 and 2016-17, homicides where either the victim or suspect were known to be involved in using or dealing illicit drugs increased from 50% to 57%.
Labour blames the rise in violent crime on cuts to frontline services, including the police.
'While it is welcome to see the Tories acknowledging the epidemic of violence that has risen on their watch, by cutting 21,000 officers since 2010 they have completely undermined the ability of the police to enforce any new powers,' said Diane Abbott, Labour's shadow home secretary.
'Talking tough is not enough. This announcement ignores the factors which we know contribute to crime, including a lack of decent work opportunities for young people, cuts to health services and decline in community policing.'
Responding to the announcement of the new strategy, Cllr Simon Blackburn, chair of the Local Government Association's (LGA) Safer and Stronger Communities Board, said: 'One of the key successes in tackling and preventing crime in recent years has been effective partnership working at a local level between councils, the police and the health service.
'It is good that today's strategy commits to providing funding to support this multi-agency work, and we are pleased it places significant emphasis on the early intervention support which is vital to prevent young people becoming involved in crime in the first place.'
Cllr Blackburn said council Youth Offending Teams (YOTs) had achieved huge success in working with and supporting young people to prevent them getting involved in crime, but warned councils were still waiting to receive their youth justice grant allocations for 2018/19.
'This is vital funding used to support young people and help keep them away from criminality in the first place,' he said.
'This follows government funding for YOTs already being halved from £145m in 2010/11 to just £72m in 2017/18.
'Councils also face significant rises in demand for urgent child protection work and with a children's services funding gap that will reach almost £2bn by 2020, councils are increasingly having to divert funding away from preventative work into services to protect children who are at immediate risk of harm,' Cllr Blackburn continued.
'Only with the right funding and powers can councils continue to make a difference to people's lives, by supporting families and young people, and helping to tackle serious violent crime in our local communities.'