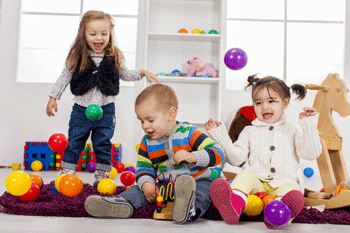 MPs have called on the Government to pay a higher hourly rate to local authorities for the 30-hours free childcare scheme.
A report on childcare by the Treasury Committee has found that Whitehall's claim it provides £4.94 per hour to fund 30-hours free childcare to three and four year olds is 'misleading'.
It found this figure excluded the proportion retained by local authorities and included money for some specific schemes, such as the Early Years Pupil Premium.
The committee found the average rate the Government passed on to providers for 2017-18 was actually £4.34 - 34p short of what the committee estimates to be the average cost per hour of providing childcare.
This shortfall in funding, the committee's report revealed, has forced some providers to restrict the times at which parents can claim 30 hours.
It has also led to the cutting back on higher-qualified staff and increasing child-to-staff ratios.
Some providers are also being forced to charge for services that were previously free, such as food and activities, and increase charges for children who aren't eligible.
This means providers in higher income areas will be able to better mitigate funding shortfalls than those in more deprived areas.
'The Government's own figures on how much it provides per hour to fund 30-hours free childcare are often misleading and out of date,' said Nicky Morgan MP, chair of the Treasury Committee.
'One estimate suggests that there would be a total sector-wide shortfall of over £157m per year from 2017–18.
'As a result, some childcare providers are altering their services, potentially redistributing resources away from low income parents towards higher income parents.
'If the Government wants to avoid these consequences, it should pay a higher hourly rate to providers that more accurately reflects their current costs.'