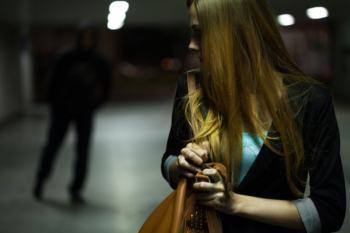 The Government is 'failing' to tackle the problem of sexual harassment of women and girls in public places, MPs have warned.
A new report published today by the Women and Equalities Committee has said that sexual harassment is 'almost entirely absent' in the current cross-departmental strategy for tackling Violence Against Women and Girls.
The committee has concluded a nine-month inquiry into sexual harassment and found 'widespread' evidence of men and boys sexually harassing women and girls in public places.
The report finds that harassment in places such as bars and clubs, universities and parks is relentless and becomes 'normalised' as girls grow up, contributing to a wider negative effect on society.
'Sexual harassment in public places is a regular experience for many women and girls in the street, in bars and clubs, on buses and trains, at university and online,' said chair of the women and equalities committee, Maria Miller.
'It is the most common form of violence against women and girls and the damage is far-reaching. And yet most of it goes unreported.
'It can make women and girls scared and stressed, avoid certain routes home at night or certain train carriages, wear headphones while out running; women feel the onus is put on them to avoid "risky" situations.
'It is not acceptable that women have to change their behaviour to avoid sexual harassment. It has a wider effect on society, contributing to a culture in which sexual violence can be normalised or excused. All of this keeps women and girls unequal.'
The committee has urged Whitehall to refresh the Violence Against Women and Girls Strategy, due later this year, to make all public places safe for women and girls.