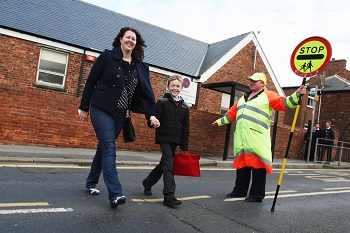 Council chiefs have urged the Government to give them more powers to build schools in response to today's announcement that grammar schools will receive £50m to expand.
The education secretary Damian Hinds today announced a package of new measures he said would create more school places and help 'give children of all backgrounds access to a world-class education.'
One of the measures - the Selective Schools Expansion Fund - will make £50m available to help grammar schools create more places.
The Government argues these selective schools give parents more choice and will help children of all backgrounds gain access to a good school.
They also emphasised schools will have to submit a Fair Access and Partnership Plan setting out what action they will take to increase admissions of disadvantaged pupils.
In their response to the announcement, Labour described the £50m as a 'handout' and accused the Government of pursuing 'its own vanity projects'.
'Children only get one chance at an education and they deserve the best, wherever they live and whatever their background,' said Mr Hinds.
'Standards are rising in our schools and we've created hundreds of thousands of new places since 2010 but we want to make sure every family can access a good school.
'By creating new schools where they are needed most and helping all great schools to grow, we can give parents greater choice in looking at schools that are right for their family – and give children of all backgrounds access to a world-class education.'
In what was the Government's response to the Schools that Work for Everyone consultation, Mr Hinds also said they will create more voluntary-aided (VA) faith schools and announced the latest wave of free school applications.
Responding to the announcement, Cllr Richard Watts, chair of the Local Government Association's (LGA) Children and Young People Board, said: 'Government should also not just focus exclusively on selective, faith schools and free schools.
'The most effective way to set up new schools and meet the demand for school places would be to give councils the powers and funding to open new council-maintained schools where there is a need for additional places.
'Over recent years councils have created an extra 600,000 new school places while nine in 10 council-maintained schools are rated as good or outstanding.
'This is a demonstrable record that they are doing everything they can to rise to the challenge of ensuring every child has a school place and receives an excellent education.
'Yet councils are in many ways operating with one hand tied behind their backs. It makes no sense for councils to be given the responsibility to plan for school places but then not allowed to open schools themselves.'
Angela Rayner, shadow secretary of state for education, said: 'Just weeks after abandoning their own 'guarantee' to protect every school from cash cuts, the Tories have excluded the vast majority of schools from any extra funding for new places.
'Instead, there is just a handout for the handful of remaining grammars.
'Once again, the Government is pursuing its own vanity projects rather than following the evidence on what is best for pupils. They promised 'schools that work for everyone' but this policy just doesn't live up to the label.
'The continued obsession with grammar schools will do nothing for the vast majority of children, and it is absurd for ministers to push ahead with plans to expand them when the evidence is clear that they do nothing to improve social mobility.'