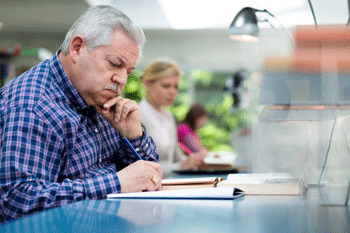 Local authorities will soon be able to bid for funding from a £6m English language learning programme, the communities secretary has announced.
The programme, which will begin next April, aims to help people integrate by ensuring that they have the necessary language skills to communicate with the wider community.
At the last Census, around 770,000 people living in England said they spoke little or no English.
A report from Refugee Action, published last October, found that Government funding for English for Speakers of Other Languages (ESOL) in England fell from £203m in 2010 to £90m in 2016 – a real terms cut of 60%.
'Our research shows that such a drastic reduction in funding is having a profoundly negative impact, with refugees across England routinely waiting months, and in some cases years, to access ESOL classes,' the Refugee Action report read.
'As a result, their lives remain on hold.'
The communities secretary, James Brokenshire, said learning English would 'transform lives' and help people play an 'active role in British life'.
'No one deserves to miss out on the opportunity to build self-confidence, interact with their neighbours, make friends and gain employment. This fund of up to £6m will help us build even stronger communities.'
Charities and other providers will also have an opportunity to bid for funding.