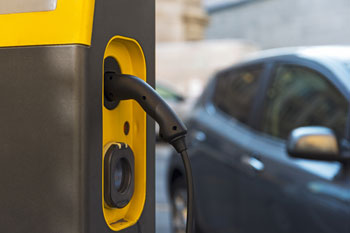 The Government has launched a £400m fund to help develop rapid charging infrastructure points for electric vehicles.
The fund is part of a £500m investment drive in green technologies for what Whitehall calls 'a cleaner and healthier future'.
Rapid charge points can recharge a family car in as little as 20 minutes, compared to existing technology which can take 40 minutes.
The first £70m of the investment will create 3,000 new rapid charge points, more than doubling the number of points across the UK by 2024.
'I am delighted to announce this funding today that will more than double the number of rapid charge points for electric vehicles on our roads,' said the exchequer secretary Simon Clarke.
'Britain already boasts one of the biggest networks of charging infrastructure in Europe and soon we will have the fastest thanks to this investment.'
The funding also includes £142.9m announced for R&D to combat air and water pollution, and increase sustainability.
A recent report by UK100 – an umbrella body which includes local leaders in London, Birmingham, Manchester and Liverpool – called on the Government to boost spending on air quality.
It argued that a fund of £1.5bn could generate up to £6.5bn in returns.