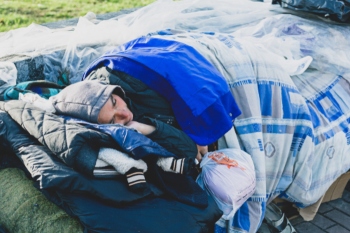 By the end of 2021, it is estimated that the government will have spent £750m on tackling homelessness in the UK. Significant, yes. But a sufficient condition? Unfortunately, not. To focus on funding alone is not enough to solve the homelessness crisis in our country. We must focus, too, on how it is spent. We must focus on impact. This means a new approach of experimentation and learning through evidence.
We have just witnessed one large-scale experiment in policy on homelessness. During the crux of the COVID-19 pandemic in 2020, the public health risk to people experiencing homelessness was tackled successfully with emergency measures introduced by the government, resulting in nearly 30,000 people in England moving from the streets or out of unsafe accommodation. The Everyone In campaign meant that even those who wouldn't ordinarily be captured under the government's eligibility standards were accommodated.
A significant success, which should have been celebrated more, but as the government is painfully aware, we need to go even further to maintain the long-term reduction – and ultimately prevention – of rough sleeping in most areas.
Current funding for prevention of homelessness and the importance of evidence-led funding
On top of the £310m Homelessness Prevention Grant, £202m grant for councils to continue to help people off streets and continued funding for beds and specialist support staff, the end of October saw the government announce £66m in extra funding to provide safe and warm accommodation over winter. This announcement features as part of the government's drive to end rough sleeping in England by the end of this Parliamentary term, backed by an annual sum of £640m over the next three years to tackle the issue – an 85% increase in funding compared to 2019.
These monetary figures show one thing: rough sleeping costs our country a lot of money. It was reported last year that there were 236,000 people in England experiencing or at risk of homelessness and that a single person sleeping out costs £20,128 annually. The overwhelming financial impact of the COVID-19 pandemic makes a protracted increase in homelessness applications likely. It's therefore all the more important for the sector to up its efforts to prevent homelessness before it happens, helping those individuals in challenging financial situations before their housing circumstances deteriorate. This requires continually looking at how funding is deployed, rooting decisions in data-based learnings to form solid outcomes – the founding premise of The Centre for Homelessness Impact.
Such data needs to be communicated effectively to change perceptions of individuals sleeping out. The political understanding and appetite to prevent homelessness is clear, but public understanding and support for it is still lacking, meaning changes in policy or public services don't receive the backing they need due to misinformation. Building effective communication across lines of difference is a core element of Acumen Fellows programme, working with its Fellows to help them utilise the power of both evidence and stories to mobilise collective action, shift the perception of issues such as homelessness, and drive social change. Acumen Academy's diverse community reaches across sector, place, discipline and background – creating a leadership laboratory and space to practice the hard edged skills and the leadership required to build trust, bridge divides and navigate uncertainty in their communities and localities.
International evidence on prevention measures
High quality reviews of the effectiveness of interventions to reduce and prevent homelessness, focusing on questions that can be answered through rigorous impact evaluations, conclude that:
Interventions that provide a range of financial assistance, counselling, and legal support can prevent homelessness among families at risk of losing their homes.
Legal representation for tenants facing eviction holds promise for improving court-related outcomes for tenants and reducing evictions.
Permanent supportive housing increases housing stability for individuals with severe mental illness and for veterans experiencing homelessness.
Subsidised long-term housing assistance in the form of Housing Choice Vouchers helps low-income families avoid homelessness and stay stably.
Significantly, all the interventions highlighted as being promising in these evidence reviews are already commonly used in the UK, though to date their effectiveness and cost effectiveness hasn't been tested. A natural next step would be to ensure we understand the relative effectiveness of these interventions in our context so that we can make limited resources go further.
What will be the gains?
A report by PwC weighed up the relevant outcomes of such preventative measures and the knock-on cost savings, and surmised that through reduced spending of temporary accommodation, improved wellbeing as a result of people obtaining secure housing, reduced use of NHS and criminal justice system services, that every £1 invested into preventative measures would generate £2.80 in benefits.
The Centre for Homelessness Impact works with governments at local and national levels to help them derive maximum value for citizens for every pound spent. We believe that with a new approach, driven by evidence and data, ready to challenge orthodoxies and experiment with new ways of doing things, we can end homelessness for good in the UK.
To achieve this, we must switch from crisis interventions to an even greater focus on prevention, not just for the individuals in such circumstances, but for the social and financial impact on our country.
Dr Lígia Teixeira is Acumen Fellow and CEO of the Centre for Homelessness Impact