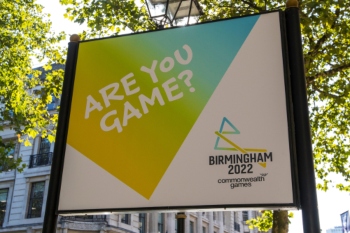 The West Midlands are to receive a £6.5m injection of cash to help improve facilities and level up access to community sport as part of the legacy of next summer's Commonwealth Games.
Sport England's new investment is made up of two funds – the Places and Spaces Fund (£3.5m) and the Commonwealth Active Communities Fund (£3m) – that aim to tackle inactivity in local communities.
According to Sport England, the pandemic has dramatically increased the levels of inactivity in the region. There are now more than 100,000 more inactive adults and nearly 70,000 fewer active adults living in the area than before the pandemic.
The two funds, which have been made possible by the National Lottery, also aim to engage underrepresented groups, such as people on lower incomes and disabled people.
Sport England chief executive Tim Hollingsworth said the Commonwealth Games, which will be held in Birmingham, represented an exciting chance to bring people together through sport and activity.
'The challenge is turning this into a legacy that has lasting impact and helps people to connect and stay active,' he said.
'Legacy is dependent on the creation of long-term local opportunities for people – at the right location and at the right cost.
'That is why these two new funds are so important. They are building the foundations to create change that lasts in the West Midlands – bringing communities together and getting people active in a long-term, sustainable way well beyond the 2022 Commonwealth Games.'
Photo: chrisdorney / Shutterstock.com