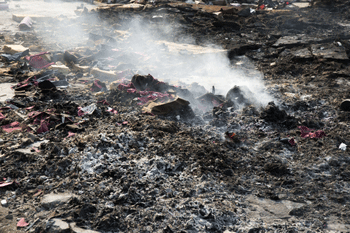 A scheme launched by the Welsh government to help councils set up contracts to dispose of waste has been well-managed, according to an official report.
But the Auditor General for Wales says several councils have opted out, often at higher cost to them, and some still rely on landfill.
It says 19 of the 22 councils in Wales have opted in to the contracts set up through the Waste Infrastructure Procurement Programme, launched in 2008.
It is expected to cost about £1.4bn by 2044-45 which is lower than initial estimates but will depend on the amount of waste that needs treating.
This includes a contribution of £342m from the Welsh government, with the remainder falling to councils.
The report concludes that the scheme has been well-managed, with a clear emphasis on collaboration and a consistent and rigorous management approach.
Auditor general Adrian Crompton said: 'The Waste Infrastructure Procurement Programme has been well-managed so far.
'But it's important for the Welsh government to take steps to ensure that contracts are managed effectively, given the long-term costs, and to consider how the projections that informed the contracts for residual waste align with the aspirations of its waste strategy.
'Meanwhile, some councils who've opted out of the programme still need to find alternatives to manage within landfill allowances and avoid incurring fines.'