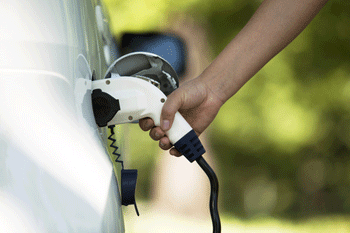 Nine local authorities in Wales are set to receive hundreds of thousands of pounds in funding from Whitehall to install electric vehicle charge points.
The Office for Low Emission Vehicles (OLEV) has announced that Blaenau Gwent, Caerphilly, Monmouthshire, Newport and Torfaen councils will get £458,724.50 this year to install 73 charge points with 146 individual sockets.
Cardiff, Carmarthenshire, Powys and Swansea councils have also applied for funding, with the amounts set to be confirmed.
The funding aims to increase the availability of accessible charging options for residents with plug-in vehicles.
'The next few decades will be transformative for our transport industry and therefore it is vital that electric vehicle drivers feel confident about the availability of charge points near their homes and along their journeys,' said secretary of state for Wales Alun Cairns.
'Greater availability of charge points will also encourage a shift towards greener transport, bringing significant environmental benefits with it.
'That is why the UK Government is committed to delivering this funding for local authorities across Wales, and I would encourage more councils to apply in order to create the necessary infrastructure to help us reach our net zero emissions target.'