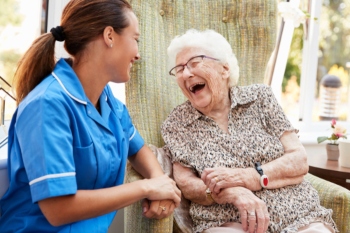 Local authorities in Wales have been awarded £40m to help social care services overcome the challenges posed by the pandemic.
An additional £8m has also been allocated to extend the carers support fund, tackle loneliness in older people, invest in the social care workforce's wellbeing and in residential services for care-experienced children.
Deputy minister for social services, Julie Morgan, said: 'We place huge value on social care in Wales and we ask a lot of the sector. It is facing significant pressures as a result of the pandemic and – just like our NHS staff – the workforce is exhausted from working so hard for so long.
'This new funding recognises the challenges the sector is facing and will help to address some of the financial pressures it faces. It also includes new funding to invest in priority areas to improve services, in line with our ambitions and commitments.'