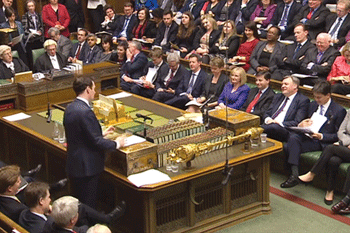 MPs are today set to vote on plans to introduce a permanent cap on welfare spending, with Labour vowing to support Government proposals.
Chancellor George Osborne use last week's Budget to announce plans for a £119bn limit on welfare spend in 2015/16, with exemptions for only the state pension and cyclical unemployment benefits
Under Osborne's plans, the cap on spend would increase – only in line with forecast inflation – to £127bn in 2018/19.
'Britain should always be proud of having a welfare system that helps those most in need but never again should we allow its costs to spiral out of control and its incentives to become so distorted that it pays not to work,' Osborne said.
Ahead of today's vote, Labour's shadow chancellor Ed Balls said that while his party would back the cap in the Commons today, alternative action was needed to keep spending down.
'George Osborne has already broken his own targets in this Parliament. His failure to tackle low wages, deal with the cost-of-living crisis and get more homes built means he is set to spend £13 billion more on welfare than he originally planned,' Balls said. 'Where this Government has failed, Labour will make different and fairer choices to keep the social security bill under control and tackle the root causes of spending.'
However, early indications suggest as many as 20 Labour MPs could reject the planned spending limit.
Council chiefs have also raised concerns about the effectiveness of a limit on welfare spending, calling for greater local authority powers to accompany the cap.
Local Government Association chairman, Merrick Cockell, said: 'Bringing down spending on benefits through a welfare cap will only be truly effective when government also frees councils to build more social housing.'