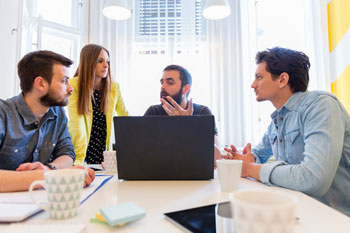 In my role I have the privilege of meeting lots of people across local government organisations across the UK. More often than not the subject of digital transformation is one of the most common conversations we have, and whilst most organisations' journeys are different there are some key themes and challenges which are common.
Before we talk challenges, it is worth reminding ourselves why such transformation programmes are now running and what the benefits are. From a local council's perspective they have the potential to deliver; greater efficiency, agile and flexible working, collaboration, increased productivity, and better job satisfaction all of which hopefully lead to greater employee engagement.
Not only for local authorities, but as residents the benefits include: improved customer experience and customer journeys, better and more cost effective services, improved and easier access to information, self-service and on-line tools ultimately making the council an easier organisation to interact with.
So with a prize for both the organisation and the resident, it's surely a no-brainer. But there are some challenges facing organisations in delivering this step change.
As with all major change programmes you need to resource them accordingly, have a clear set of objectives and outcomes, strong leadership and a nerve to drive through knowing there will be unknowns to overcome
Our research with The MJ looked specifically about the importance of an organisation's culture and the impact it can have on an organisation's ability to deliver transformational change.
From organisations we surveyed, when asked 'How important is organisational culture when it comes to implementing digital transformation?' a massive 80% said it was critical. When asked 'When implementing transformation have you experienced cultural resistance?' 44% said a lot and 42% said some, with no responder saying they had had no resistance across their organisation. The killer question however is what impact this resistance is having. Only 4% or people felt that their plans were not impacted and over 70% said their plans were impacted a lot or in some way as a result of this cultural resistance.
Interestingly when we asked organisations why they believe cultural resistance exists, we get some real powerful insight. The obvious issues such as lack of time and that people aren't paid to deliver change ring through, but most compelling is that people neither understand the need for nor understand the point of change. So it is very clear that if we want to land changes across our organisations then we have to take our people on the journey. The best plan, with clear outcomes and leadership, on its own will prove difficult to implement across without the buy-in of our people.
So it's a frontline issue? While it's true that 64% of people believe that cultural resistance exists at the base level, this isn't the community that's seen to have the highest resistance. 88% of people responding believed cultural resistance exists across middle management – the very people we want to take our frontline teams on the journey. Coupled with over 43% believing that it also exists at senior management level then we have a problem.
As I said earlier, I have been faced with many different views of what digital transformation is and I respect that for some organisations it will clearly be a unique journey. Our start points differ; we have regional and demographic differences, various degrees of financial challenge and the legacy of our predecessors' decisions. But the thing we share regardless of our organisations is a resistance to change, and if we don't firstly recognise this and take action to tackle it, then our transformation programmes will be harder to implement.
Joining the dots for people in our business and taking the necessary time to explain to them why we need to change, what it means for them, why it's important for our customers and what the process of implementing change will be, is the key to success. As organisations we spend time making decisions, writing business cases, assessing risk, benchmarking and challenging ourselves on the impact of doing nothing. Perhaps we should then all take more time to sit down with our middle management and frontline teams and take time to help them understand what we are doing and why.
Cultural resistance could be the biggest reason you don't transform your business, but manage to work through these challenges, and both your organisation, and your residents will truly start to reap the rewards.
Danny Longbottom is director, local government & health, BT.