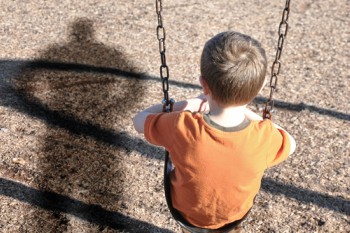 As the world follows COVID-19, it's important that we don't forget the most vulnerable in society. Those in danger find themselves in more precarious situations than ever.
Today, the Truth Project, part of the Independent Inquiry into Child Sexual Abuse has published a further 80 accounts from victims and survivors. Their voices provide a stark reminder that in these exceptional times, abuse, and its aftermath doesn't go away - Angela, a survivor said, "I am still alive ... I am a survivor ... this is why I am speaking to you."
These voices show that home is not always a place of safety, particularly for children at risk of familial and online abuse. Take Tamsyn, who was sexually abused by her brother, or Kirsten who was treated 'like a slave', and physically, sexually and racially abused by her foster family. Woody started to message older men when he was a young teenager.
Worryingly, a Newsnight investigation found that only five per cent of those children who are most at risk are currently attending school. Charities including the NSPCC, and Barnardo's have recognised that the pandemic may increase opportunities for those abusing children to strengthen their coercive position, controlling who they can talk to and where they can go. It's essential that we listen to survivors now, so that we understand where those crucial points of contact are, and how children fall through the cracks.
Abuse can also be imprisoning - I, and many other survivors have spent our whole lives fighting the feeling of being told what to do by those in authority. This situation gives me flashbacks of other times when I have experienced restriction, control and enforced compliance. And with good reason - these 80 accounts are brimming with examples when survivors were harmed by the very people that are now supposed to be protecting us. For example, Paraic, Skye and Andrew all report teachers who minimised, or covered up their abuse.
Another key theme raised in these accounts is the issue of support. The recommendations put forward by survivors focus heavily on improving the signposting and provision of support services to adult survivors. This is particularly critical now - as all our support networks have been disrupted, and counselling has to take place via phone or video link.
For many survivors, trust is hard won. Paddy's experience resonated with me - he told the Truth Project he finds it very hard to trust people and has difficulty with friendships and relationships. I'm finding it very hard to connect with others; strangers avoid eye contact, I'm not able to read faces, and my world has narrowed to close colleagues, friends and family. It feels like parts of our humanity have been slowly stripped back. That's one reason why these survivor accounts are so important - they remind us that we aren't alone, and that we can trust each other to start being part of the change for the better.
If you feel ready to share your experiences with the Truth Project, you can do that now, either in writing or over the phone. You will be offered a dedicated support worker, who you can speak to before, and after your session. To keep survivors safe during the COVID-19 outbreak, there is a temporary pause on our face to face sessions, however you can still register your interest.
Survivors of child sexual abuse who would like to share their experience with in writing or over the phone, can find out more information by visiting the Truth Project website.
Emma Lewis is a member of the Victims and Survivors Consultative Panel for the Independent Inquiry into Child Sexual Abuse