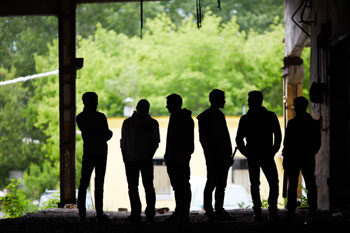 An official report shows more investment is needed in local services to protect young people from the lure of gangs, council leaders have warned.
Simon Blackburn of the Local Government Association said the National Audit Office (NAO) report on serious crime showed there were still 'significant and avoidable shortcomings' in the government's approach.
The NAO said serious and organised crime is 'evolving at a rapid rate'.
More than 4,500 organised crime groups operate in the UK in changing and unpredictable ways, often using violence and intimidation and working in large international networks, but local funding to tackle it was often uncertain and inefficient, coming from numerous sources without a joined-up approach.
Cllr Blackburn said the NAO report reinforced the need to invest in local services to protect and support young people, keep them safe from the lure of gangs, modern slavery and county lines drug activity or from becoming involved in serious crime.
He said children's services were facing a £3.1bn funding shortfall which should be addressed in the forthcoming spending review.
'Government is responding to the challenge, but there are still significant and avoidable shortcomings to its approach.
'Councils' youth offending teams have an exceptional record of reducing youth crime and making a real difference to young people's lives, but they are under huge pressure after seeing their government funding halved over the last decade.
'Children's services are now starting more than 500 child protection investigations every day, but face a £3.1bn funding gap by 2025.
'This is forcing councils to divert funding away from preventative services such as youth work into services to protect children who are at immediate risk of harm.'