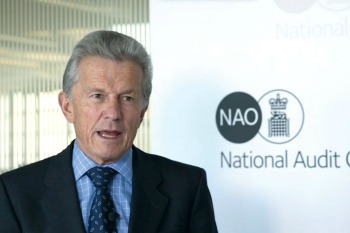 The number of public bodies in England with weak financial plans is 'unacceptably high,' the National Audit Office (NAO) has found.
In a report released today, the NAO warned the growing number of local bodies with inefficient plans to keep spending in budget was 'a risk to public money' and undermined confidence in services.
In 2017/18, 495 local authorities, local police and local fire bodies were responsible for £54bn of net revenue spending.
In the last year auditors had warned a significant number of bodies there were serious weaknesses in how they had arranged to secure value for money.
In 2017/18, auditors identified weaknesses in the financial planning of 208 local public bodies (22%) - up from 170 in 2015 (18%).
Head of the NAO, Amyas Morse, said: 'I am shocked by the persistent high level of qualified audit reports at local public bodies.
'A qualification is a judgement that something is seriously wrong, but, despite these continued warnings, the number of bodies receiving qualifications is trending upwards.'
He added: 'This is not good enough.
'Local bodies need to address their weaknesses and departments across Government should ensure they are challenging local bodies to demonstrate how they are responding.'
The NAO called for local public bodies to take 'prompt and effective' action to improve their financial arrangements and performance.
Rob Whiteman, CIPFA CEO, said: 'We found particularly concerning the suggestion that some public bodies do not understand the purpose of raising issues in the local auditors Value for Money (VfM) conclusions.
'Far too many respondents said that they were already aware of the issues raised and that the auditor's VfM conclusions provided no further information, which is a disappointing response.
'Furthermore, even when issues were raised in VfM conclusions, the NAO's report showed few bodies taking prompt and effective action in response to any weaknesses identified in their arrangements.'